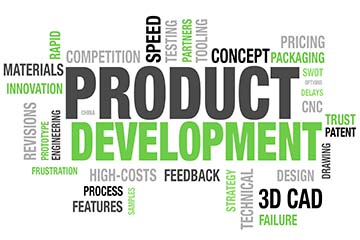 Innovation is integral to success today. New or rebranded products and services are meant to fill consumer demand or capitalize on an opportunity in the marketplace. To bring such ideas into reality, businesses must consider the New Product Development process.
This process was developed on the back of comprehensive research on products that failed and succeeded.
How to Develop a New Product
The process listed here is recognized as the best practice for bringing concepts to market. Also known as the Stage-Gate innovation process, it has eight steps.
True innovators look for ways to stand apart from the competition. By analyzing current market trends and using some SWOT analysis, businesses can discover profitable product ideas.
Entrepreneurial ventures typically start lean and scrappy, with growth in mind. Work to adopt a flexible attitude that allows for several routes to success.
While it's easy to toss ideas around, finding truly good ideas for new product development takes a little more time and effort.
In this step, consider the feasibility of each idea, taking into consideration the potential ROI and costs, the customer's needs, and the company's strengths and weaknesses - among other things that may affect your business.
The new product development process involves legalities, including patent research when testing the concept. Moreover, the company must figure out the most effective marketing avenues and messages that will garner attention.
Data insights are a major force in the digital era. Developers should monitor both input and output metrics, gauging the time put into developing products, as well as the value gained from launching them, plus sales, and any other useful feedback.
There is a range of ways to run tests during new product development, which gives you valuable information to continue improving the final product.
Also, by having private test groups and releasing beta versions, companies can stir up interest prior to the official launch.
So long as all strategies are approved, the product will move forward to actual production. As that happens, marketing and finance will undertake the tasks of financing and promoting the product, getting ready to introduce it to the market.
This stage is about developing the product as a staple on the shelves of major outlets. Consumers may already be buying, but this is no time to slack.
Companies must be consistent with their efforts to advertise and distribute the product in order to establish the brand name and drive conversions.
To begin with, introductory pricing is an effective way of encouraging sales on a new product. After a little while, final prices should be implemented.
Companies must analysis the sales value in relation to their costs. As the products age, businesses should adapt to the needs of the market and look to enhance the delivery process to stay competitive.
It's a Process, Not a Law
Changes are bound to happen. Staying flexible and open to scrapping ideas that don't work and cutting your losses on poorly-performing concepts is essential.
Ultimately, the key to success with new product development lies with the ability for the workforce to be united as a productive and synchronized team.
With this attitude and clear goals - the NPD process is the best road to successful products.